Discussion Starter
·
#1
·
I paid HG back for killing a deer with my new Muzzle Loader before I did. I killed a doe with his crossbow before he did !!!!!!
Ya'll just ain't gonna believe this :biggrin: :biggrin:
This is the doe that almost wasn't !!!!!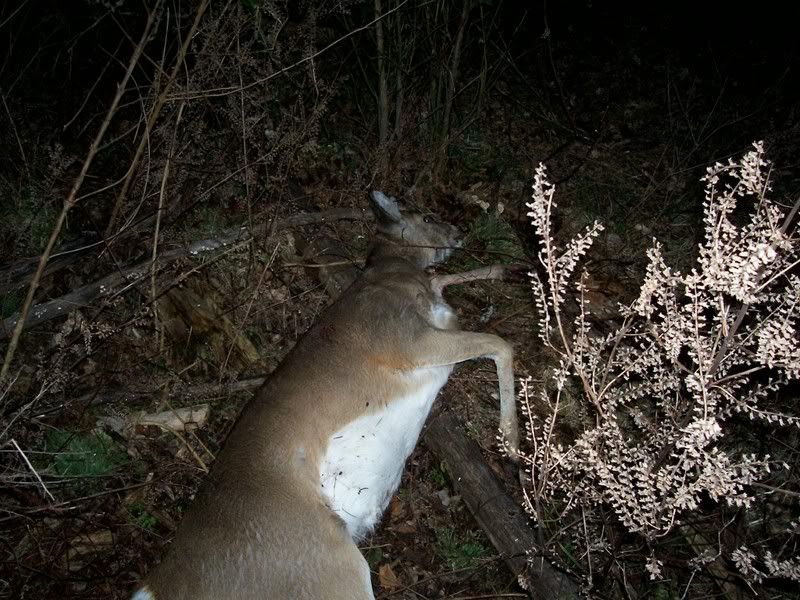 HG and I went to the cabin this weekend, our last time to hunt for the season. HG had put two racks of ribs on the pit right after lunch and we did some riding around in the mud in the new toy. About 3:30 he took me to the Hi-Tech stand and got me set up, got the crossbow cocked and me ready to hunt. He went back to the cabin to watch the ribs.
He hadn't been gone 30 minutes when a doe and yearling walked out into the road. I got the bow ready, and took the shot......the doe bucked up and ran off, I could see my arrow sticking out of the mud.....I thought I had shot right over her. A few minutes later I see a yearling and another doe walk into the shooting lane to the left of the stand, about where the doe I shot at ran.
I tried to cock the bow, but it had a 150-lb pull on it, I just couldn't. Almost had it, but then on the second try, I hurt my back.......so I'm sitting there in the deer stand, crying cuz my back was killing me, had deer everywhere around me and I couldn't take a shot at nothing !!!!!!
So, being the southern redneck that I am, I got out my camera and started taking pictures and drinking beer. All of a sudden, the deer scrambled, started blowing and a bobcat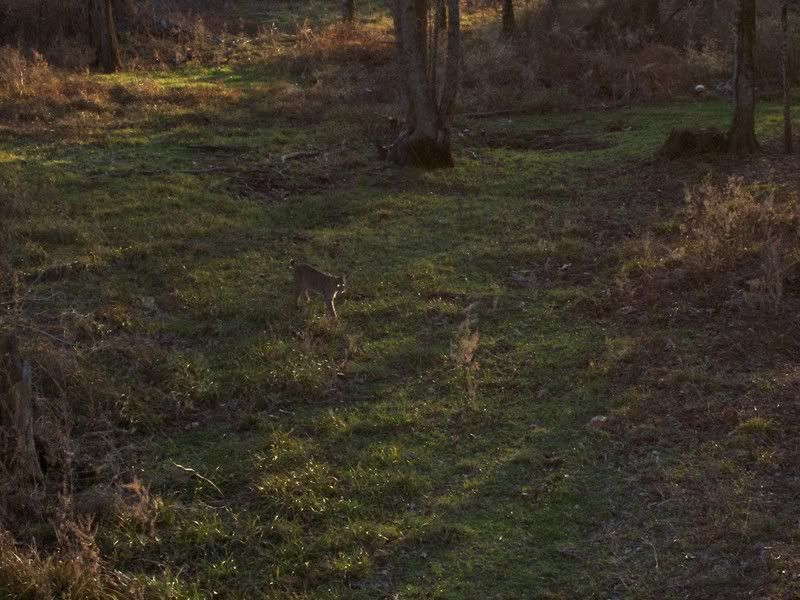 came out of the thicket and walked probably within 15-20 feet of the stand. I'm thinking, I'm sitting here in the stand with NO weapon, worried that the bear would decide to visit too......thinking I could probably start throwing empty beer cans at it.
I sat there for about 2 1/2-3 hours drinking beer, taking pictures and listening to my MP3 player as HG wasn't supposed to come get me until about 5:30 (but our buddy talked him into leaving me out there longer to give me a chance to kill something............HA.
HG and Jon show up, I crawl out of the stand, hurting, almost crying. He knew I had shot the bow as it had been fired. I told him I knew exactly where the arrow was but that I had shot over her.
He got over the the arrow, it was covered in blood !!!!!! Next question from him was what did she do when you shot and which way did she run. I told him she bucked up and ran over into the thicket on the other side of the road.
We all three loaded up in the Ranger and headed across the road into the brush. Jon hollered stop.....I think I see blood. HG backed up the Ranger, he and Jon got out and HG started looking thru my daypack for my cap light as that was the only flashlight we had on us......Jon hollered, Bill no need to look for that flashlight.....here she is...................WOOOOOOO HOOOOOOOOOO.........she only ran about 40 yds before she went down, and was probably only about 20 yds from the stand !!!!