Discussion Starter
·
#1
·
Since modern gun season is open I packed up and went for a 3 day trip to one of Arkansas's many fine public bow only hunting areas. With almost everyone else out gun hunting I basically had this 14000 acre area to myself. As far as I know I was the only hunter because in 3 days I never saw another soul.
I soon arrived and quickly set up camp.
Pat McManus, if you are reading this please ignore my made camp statement. I know you don't believe pulling up to a spot and setting the handbrake as "making camp". To appease you a little I did take the camper off of the truck. I also had to back in at an odd angle so I could get this view from my "front porch".
I went to the same spot where I got a nice doe about 2 weeks ago with my recurve. I had also seen an impressive 8 point from that stand and my hopes were to get a shot at him on this trip.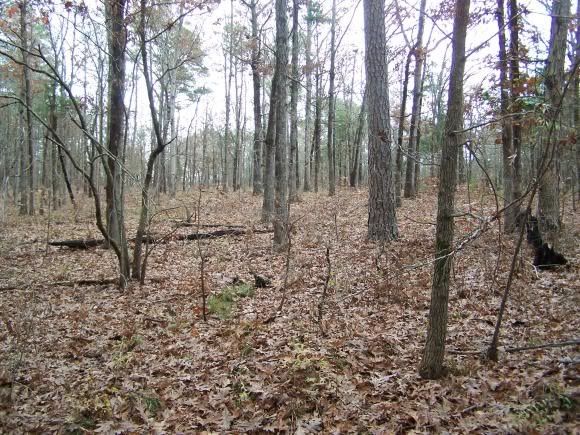 As I picked the perfect tree I took my climbing stand off of my shoulders and laid it on the ground. Less than 20 seconds later I heard deer running in the woods but surprisingly towards me instead of away from me. Three does ran like crazy to within 20 yards of me and stopped. I was thinking a buck was chasing them as I slowly got my hands on my bow and tried to become a part of the tree I had intended to climb. I just knew a buck was chasing those does because of the way they were running so fast but alas there was no buck. The 3 does were obviously in a race to see which one could get to the acorn buffet first. After a few minutes I was ready for the does to leave but they had other plans. I had to stand up and wave my arms to get them to leave the area so I could get my climber up into my tree.
Once in place I had a spike come within 10 yards but with our 3 point on 1 side rule I had to let him walk. I also had 2 more does come in range but with only 1 tag left I was waiting on a nice buck. Unfortunately, these deer would be the only ones I would see on the trip. The next two days it was unseasonably warm and the wind swirled constantly. Still all in all I had a good time and enjoyed my little trip. Bow season doesn't end until mid February so I still have plenty of time. If anyone would like to hunt public land with me you are welcome to go.