Discussion Starter
·
#1
·
Here are 2 pictures from our Kansas hunts. The first pic is after our first day of hunting.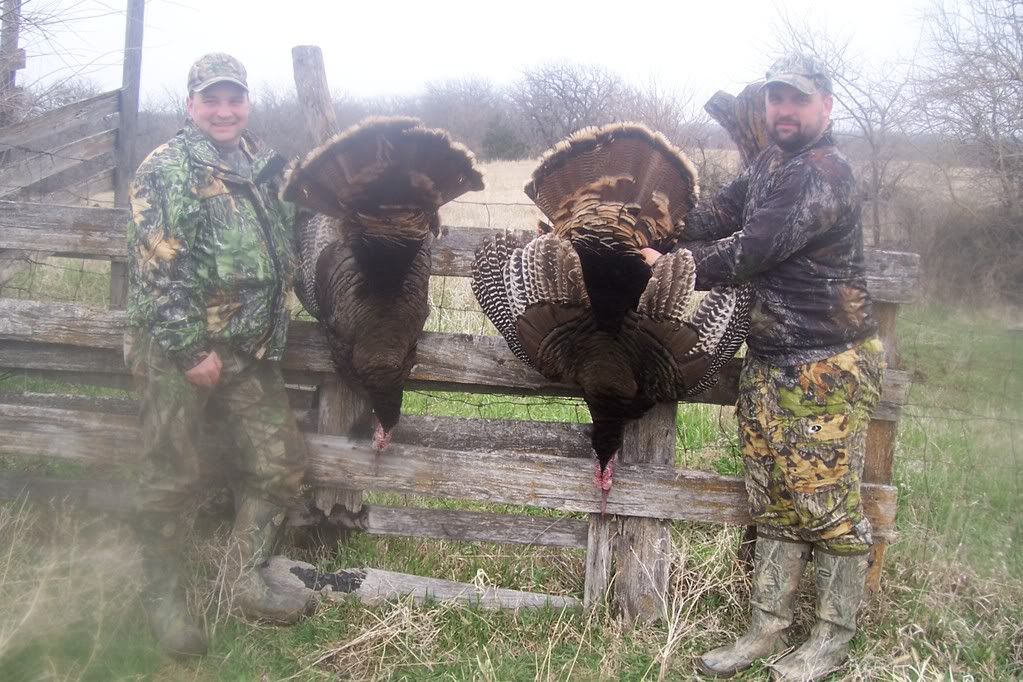 The turkey on the left came from a daylight hunt. Tons of gobbling from multiple gobblers, but this was our only kill. The gob on the right is the one I took the first afternoon in about 25 mph winds. We called him up from across a field 250-300 yds. Got some great video, but the audio was not great due to the wind on the microphone.
Here are 4 gobblers from our last morning of hunting. Poor weather conditions, threatening rain, and chilly, but we had some success.
The gobbler on the left was singing from the roost, with 2-3 others further south joining the morning sing a long. We tried to get close to him in the corner, but he flew out and went to the others. We crossed the creek and found our way into 2 fields divided by a 30 yard wide stretch of timber. The gobbler was still singing and soon we heard him right back where we crossed the creek (go figure). We called to him and suddenly realized he's in the creek. I had the video camera and let H.S. know he better slide down beside me or the footage was going to be of a big gobbler flying off with no shot being fired. He finally appeared across the creek making his way down looking for a good spot to pitch across. He appeared to be heading too far, when a subtle yelp from HS let him know where to go. The gobbler flapped his wings a couple of times and landed on a narrow bench and headed up the bank onto the larger bench. That was his last mistake and our good fortune. HS took a shot, although a little thick and the tom was ours.
We gathered him up and headed up west to a ridgetop where a couple of gobblers had been singing before daylight. TCJ told us in years past that he had worked gobblers on this ridge, so we gave a soft yelp and got a quick response from only 150 yards or so. We quickly setup, but realized this was not going to work. A quick run about 40 yards up the hill found us in a great looking spot. No sooner did we set down, when a hen appeared and gave a few concern clucks. The gobblers didn't spook, but did seem nervous, not answering much. After a healthy dose of dead silence, we sent them a few soft notes, hoping to draw some interest, but nothing. We waited longer and tried a little more subtle seductive talk, but nothing. TCJ whispered to HS and told him to give them a cutt. Not only did the 2 gobblers in front answer his call, but 2 answered not 50 yards to his left. The line of sight was bringing them straight through HS, who was running the camera. Another quick cutt and the gobblers were letting us know it was about to get interesting. TCJ moved to his left, looking directly behind where we had been looking. I spotted them first and let him know where they were only 25 steps away behind a large cedar. "If you shoot the first one, sit still and I'll try to get #2", was my plea. He agreed, but when they walked out and stood wing to wing, the single shot took them both down! Yep, he got them both with one shot. I guess with rising prices, he wanted to save lead. (Plus, that helps increase his shot to kill ratio, balancing old misses, not that he's had many).
The last gobbler is mine. After stashing TCJ's 2 gobs, we made our way up the hill toward 2 gobbling turkeys, one on each side of a field. After planning our route to them, 2 other turkeys gobbled closer, on a ridge we were familiar with. We headed that way and set up after they answered 100 yards away. Instead of coming straight down the ridge, in true gobbler fashion, they skirted the hillside and started a circle around us. HS could hear them drumming and let me know where they were, then I could hear it too. I shifted over completely off the tree and got ready. Just a moment or two went by when TCJ whispered he could see one of them coming. I finally found him and he took the two steps I needed to take the shot. He fell dead.
It was one of the best, if not THE best, morning I've had in the turkey woods. We took 4 gobblers by 10am with 3 shots, and captured 2 of them on tape! I guess all that luck stayed in Kansas, because I couldn't bring any of it back with me to Arkansas:biggrin:!