Discussion Starter
·
#1
·
I KILLED THIS BEAUTIFUL CREATION OF MOTHER NATURE ON SUNDAY APRIL 20TH AT 10:15. I HAD A BIRD GOBBLIN ABOUT 200YRDS TO MY LEFT. EVERYTIME I WOULD CALL HE WOULD GOBBLE, AFTER A MINUTE OF THIS I SEE ONE RUNNING THROUGH THE PINES TWO MY LEFT TOWARDS THE GOBBLIN IT WAS ANOTHER TOM. HE STARTED DOUBLE GOBBLINING AT THE OTHER TOM. THE STARTED HAVING A GOBBLING WAR AS I WAS CALLING. ANOTHER MINUTE WENT BY AND I HEARD ANOTHER TURKEY GOBBLE BEHIND ME. I COULD HEAR HIM RUNNING THROUGH THE WOODS TOWARD THE OTHER TWO. ALL OF A SUDDEN ALL THREE OF THEM WERE GOBBLING AT ON ANOTHER. THEN THEY JUST SHUT UP. I KEPT CALLING, BUT GOT NO RESPONES, SO I BROKE OUT MY GOBBLE SHAKER AND WAS GOING AT IT WITH IT AND MY WOODHAVEN, RED WASP; STILL NO RESPONE. SO I GET UP TO HEAD TOWARDS WHERE I HEARD THEM LAST, AND AS AM STADING UP I SEE ONE RUNNING IN MY DIRECTION, SO I SIT BACK DOWN HIT THE CALL AGAIN AND THERE STARTED THE GOBBLES. THIS BIRD WAS RUNNING DEAD AT ME AND I THREW MY GUN UP AND MISSED HIM AT ABOUT 5 STEPS, SHOT AGAIN AS HE RAN OFF AND HIT HIM AT ABOUT 10 YARDS.
9 INCH BEARD
20PDS
1 3/8 INCH HOOKS/SPURS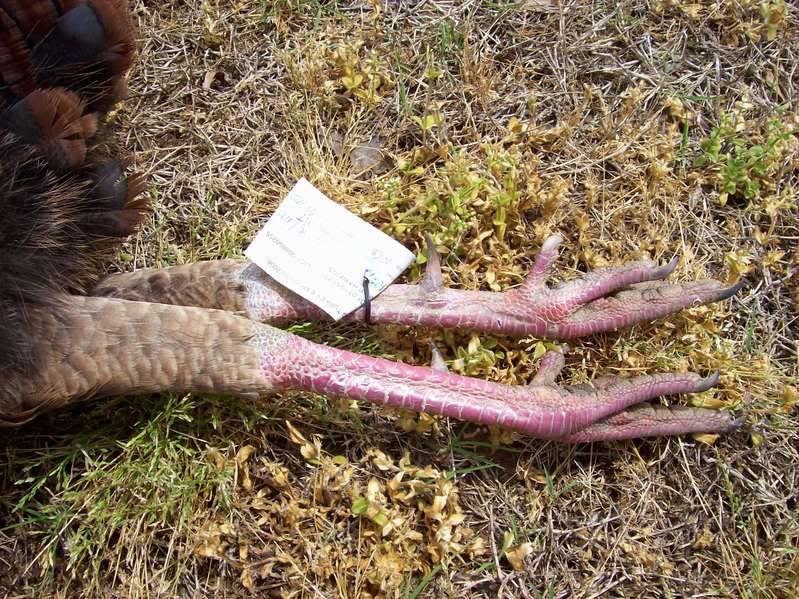 LOOK AT WHAT A KICKS THUNDER GOBBLER CHOKE WITH A 3 1/2 WIN. SUPREME 4 SHOT WILL DO AT 10 YARDS. IT ALMOST TOOK HIS HEAD OFF. I HATE THAT FOR THE PICTURES BECAUSE THEY HAVE SUCH BEAUTIFUL HEADS.