·
Super Moderator<br>2012-13 Deer Hunting Contest Wi
Discussion Starter
·
#1
·
We got back from Kansas yesterday after three days of sheer turkey hunting joy. I saw around 100 birds, probably half and half. Friday morning we left the hotel at 4:45am and headed to our first place. I hunted with Jason Mickey, great guy, knows the area and what the birds would be wanting to hear. We walked about 600 yards to the back of a field and waited to hear and gobble. Some birds would be roosted at each end of the field he said and when the birds to our right gobbled first they won. We setup about 70 yards out of the corner and put Harold, his B-mobile out. He yelped and gobbled at good light and had a repsonse. About 6:43am I saw two birds come into the field and eye the decoy. I signaled two birds to my left and they came running. He had already told me he had bought a new decoy the night before due to his other decoy suffering a serious hunting accident the last weekend. The birds came in at a dead run and the lead bird did a little side jump at the decoy and went on past it. When the two birds separated I shot at 20 yards...the birds looked around as I put another round in and fired at the now 30 yards and running birds. It folded like it should have at the first shot. 1" black spurs and 9.5 inch beard. 6:45 am and bird one was down.
My cousins girlfriend killed her first the same morning. 9.5 inch beard and 1.25 inch spurs. The B-mobile they used did the trick as well. They had jakes fighting in front of them and two strutters in the field out of range. The wind hit and spun the decoy around facing the strutters and here he came at a dead run, 20 yards, 20 gauge, dead bird.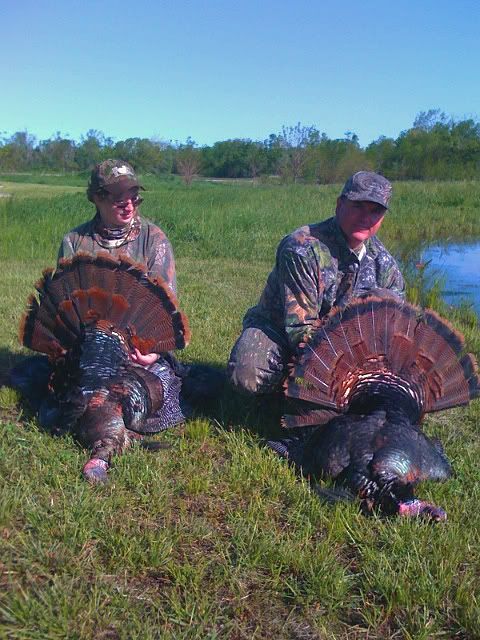 Saturday morning we had a great hunt, gobbling birds, strutting birds, birds at 30 and 50 yards in heavy brush gobbling, yelping and leaving us with a smile. We went to a CRP field and two birds were about 50 yards off the road gobbling as we went past. Jason let me out to do a slip and I did. Got to within 20 yards of the field and felt I needed to be closer and moved about 5-7 steps closer, got the gun up, bird steps out at 35 yards, I shot, bird does a back flip and takes off running, never see it again. Jason ask me if all guys from Arkansas shoot like me and I said no some actually hit what they shoot at. we go to another spot and have 2 strutters and 5 hens about 600 yards behind a cemetary. We circle and put the sneak on them, I crawl to within 55-60 yards which is a stretch for my gun. I hold off but Jason is sure we can kill the bird. I shot, bird hits the ground, I finally get another shell in as the bird stands up, I shoot, bird flies away out of sight. Longest shot I will never take again. Needless to say I didn't sleep worth a crap, I hate shooting anything and not getting it. The first bird I missed, the second I hit and lost, nothing leaves a deeper sickness than that.
Sunday morning Jason and I left for the field we heard all the gobbles in on Saturday. We walked for 1/2 mile and waited on the birds to sound off. They did, a long ways off. Jason said they were where we talked about setting up yesterday and off we went. We drove around and parked. As we were getting our stuff together a bird gobbled behind us about 150 yards away and then another gobbled down the road at the strip pit, and another gobbled in the strip pit and another down from it and then the one at the back of the field, the one we wanted. We headed off and bumped a hen which was already in the field and I think that bumped the gobbler because he never gobbled again. As we were walking in the other birds cranked it up and gobbled almost non stop between the five of them and two more joined in from the back of the field. We set Harold out about 30 yards in the field and called, gobbles all around. The two at the back were getting closer to each other and soon were gobbling together. The two at the pit were together and gobbling likelwise. The bird at fields end was getting closer and gobbling still. This was a good day just to get to hear and watch it play out even if it didn't result in a bird in hand, a carbon copy of yesterday morning. The two birds at the lower end were now working up through the brush instead of coming out into the field. The bird at our end of the field was within 100 yards. It was dead still and you could hear anywhere from two to five birds gobble each time. The birds in the woods came to wintin 250 yards before they came into the field. Jason said 'bird in the field'. I said I see him. 'Its a tom' Jason said, 'two toms, three toms, four toms and the last is a good one'. The younger birds chased one another around and pushed at each other. They worked about 30 yards into the field and Jason called. The gobbled and slowly worked our way. The bird to our left was getting closer still. I think it was the bird we bumped off the roost. The were all pecking around and suddenly stopped, looked our way, the big bird went into strut, gobbled, lowered his head and took off running our way. They all stopped at 80 yards and gobbled, he went into strut, one of the other birds passed him and the race was on. The bird to our left gobbled at about 80 yards, the ones in front were at about 50 with the dominant bird back in the lead. He went into strut at 45, popped out, stuck his head up and died. 10" beard, 1.25" spurs. We heard my cousin shoot about 10 minutes before I did. His bird had broomed off spurs about 3/4" long and a 9" beard that the base is at least 1.25" long or wide, never seen anything like it.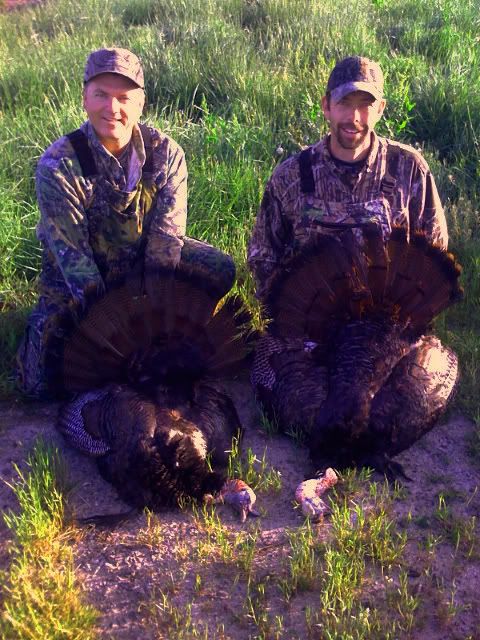 Great guys to hunt with. One is the chief of police and the other is a former detective of his. We will be back next year. I will leave their info in the outfitters review forum.