Discussion Starter
·
#1
·
Hi guys.....Dustin got a wild hair this evening about 7:00 pm...said "Dad, let's go make a quick stand." So we threw on our new Arky shirts and ran out to a place we call the "Peekaboo" stand.....we have had a coyote or two "peek" at us without us getting a shot in the last few years or so, hance the "Peekaboo" stand.
We got set up and I started in with a bunny with my little Kat Kaller....blew it for about 10 minutes...nadda...went to pup sounds for about 10 minutes...nadda....threw out a lonesome howl....nadda...in desperation, I went to a crazy sounding woodpecker...took about 2 minutes here she came...at about 125 yards, Dustin barked and broke in his little Browing .204...shooting a 32 grain VMax at a little better than 4000 fps...hit her hard and it was over......a lot of firsts here....first coyote for the little Browning, first for the Arky shirts/caps, and first for the season...and even the first for my new little Jeep...
The female looked like last years...very mangy...sorry for the pic quality, but it is a cell phone pic as we didn't take the camera...
I am CERTAIN, it was the new Arky shirts that turned the tide in our favor!!!!! I am gonna wear 'em a LOT!!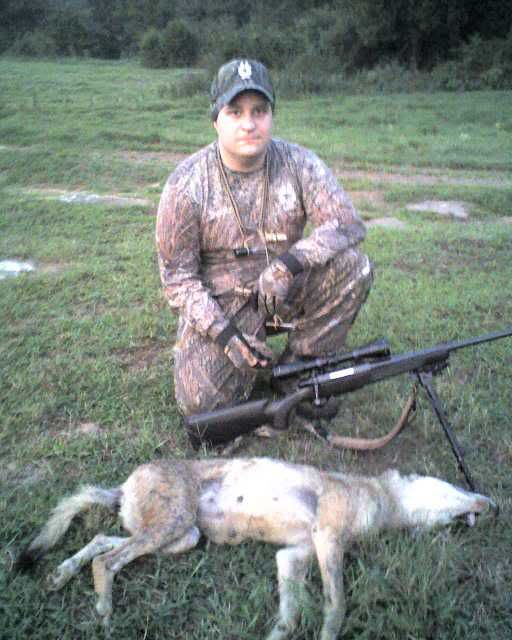 Joe