Discussion Starter
·
#1
·
My wife, Raye, and I made the trip to Namibia back in July. We had put it off long enough and decided to jump thru all the covid hoops...
We landed in Windhoek after something over 24hrs of travel..Memphis to Chicago, then over nite..next morning Ethiopian air Chicago to Addis Ababa, Ethiopia, then on to Winhoek Namibia. the travel is all part of the adventure, we had 20Min at Addis to make our flight...they made sure we didnt miss it...Our only piece of checked luggage didnt make the connection...it showed up a day or 2 later.. We were smart enough to pack hunting gear in our carry-ons..so we were ok hunting for a few days with out all our stuff...
We spent 2 days hunting in the mountains west of Windhoek. Raye tried to kill a mountain zebra...this trip game was pretty scarce and very wary in the mountains. We did several stalks on zebra and Raye only had one shot at a zebra...275yds prone..she had never shot prone and had trouble seeng thru the scope, got frustrated and then got zebra fever...she was unhappy with herself...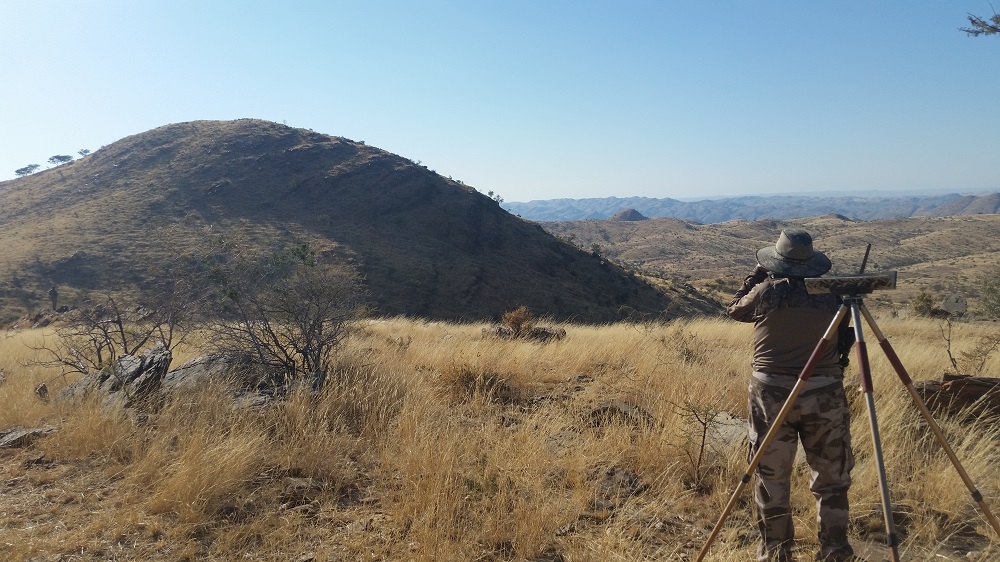 I saw a giant kudu bull and we tried to stalk him. On the way we spooked a kudu cow that blew the whole herd out... You can see that it is rugged but very open country..
My main interest was getting a big kudu bull. After the time in the mountains we went NW by vehicle for about 7hours to Bennies ranch. He has 25000 acres, and access to 50000 more acres for hunting adjacent to his place. the pic below is along one of his fields..notice the amount of tracks in the sand...his whole place was covered in sign, its no wonder he uses bushman trackers to sort the track out...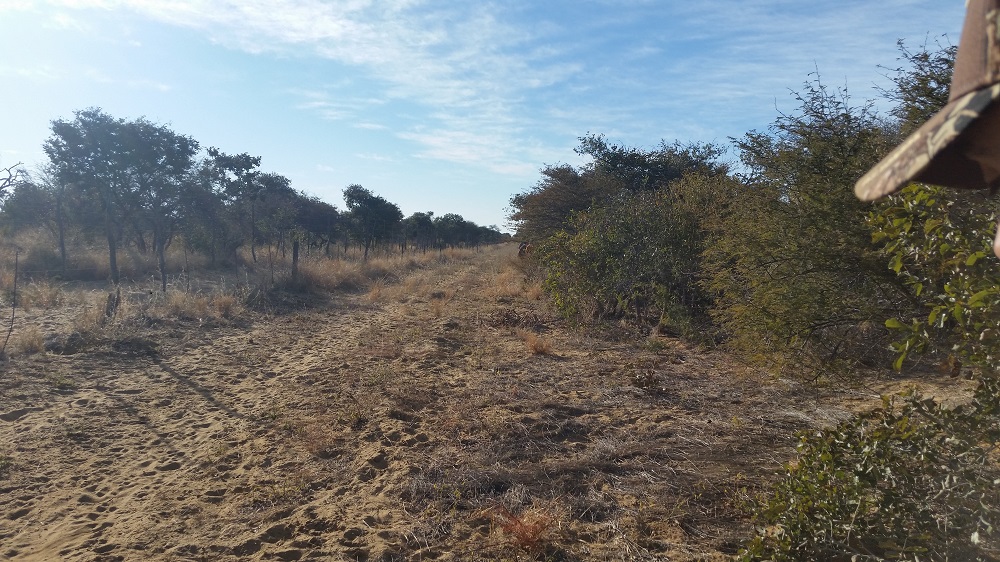 We hunted eland hard once we got to his place. I had put eland on my list as an afterthought. I didnt realize that the traditional way to hunt eland is to cut tracks on the road...pick out a big bull track and then set out afoot to wherever the tracks lead. It was interesting following the PH and tracker...sneaking the whole way. we would track until we either spooked them or the wind switched and blew them out.. The first 2 days we tracked all day...sometimes the tracker would climb a tree to see if he could see brush moving where the eland were feeding...in the pic below the tracker is up in the tree, Bennie and Conrey the PHs were discussing the plan..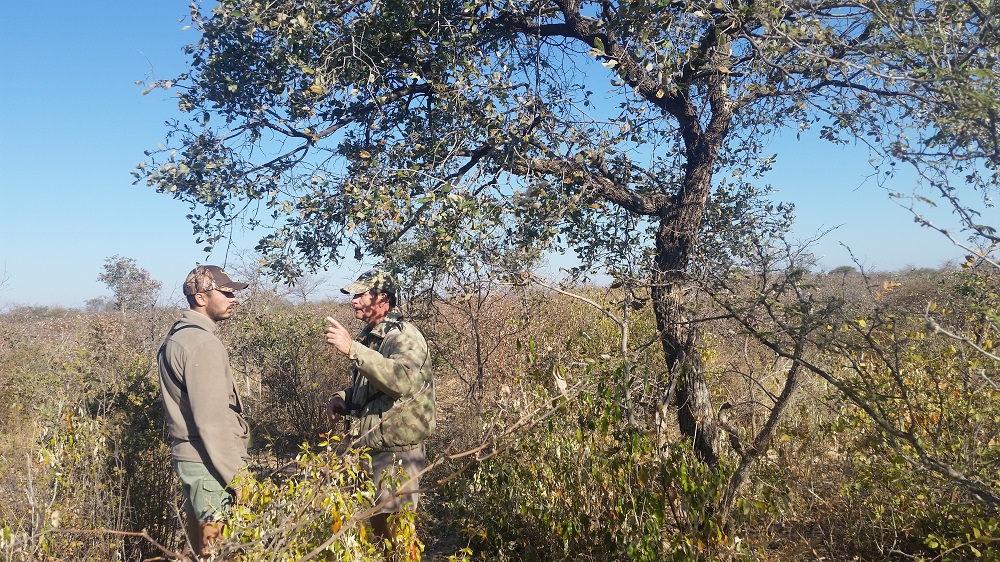 I figured that 5 of us sneaking up on a herd of eland in the brush was never going to be successful...but Bennie told me.."we will just keep tracking until it works out". As we tracked, Raye and I got better at sneaking, we got close to several herds of eland too. On the morning of the third day after about 3hrs we got close to several big bulls...they were feeding into the wind and we were close...eventually Conrey spotted and ear moving at about 75yds in the brush... We watched and waited for about 20minutes finally Bennie showed me where the bull was..I could see the bushes move a little and once in a while a piece of tan hide...Bennie said the bull was moving right to left and would move into a small gap I could shoot thru...I was set up. All I could see was the shoulder as the bull came into the opening and I shot...Bull went down then got up and ran off...
We gave him some time and then took up the trail...good blood. We jumped him in about 100yds...no shot...we waited a bit longer..he wasnt doing too good. The next time we jumped him he tried to run but just went stumbling away and fell in the brush. Bennie said hit him again...I thought I had the shoulder in the scope and shot..that anchored him...but he still needed a finisher. My second shot was in the ham...the angle he was at I thought it was the shoulder...it did the trick anyway..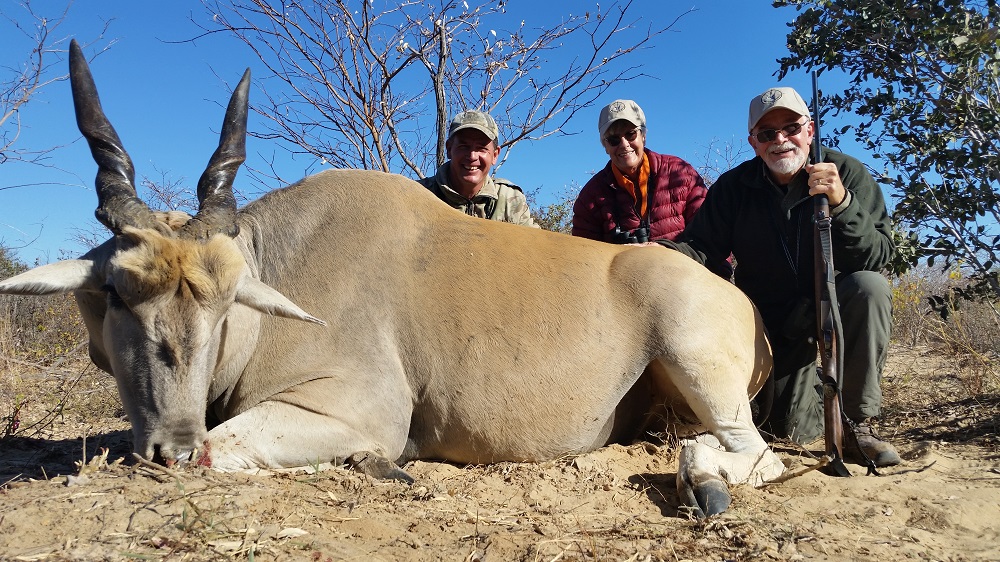 They are huge animals...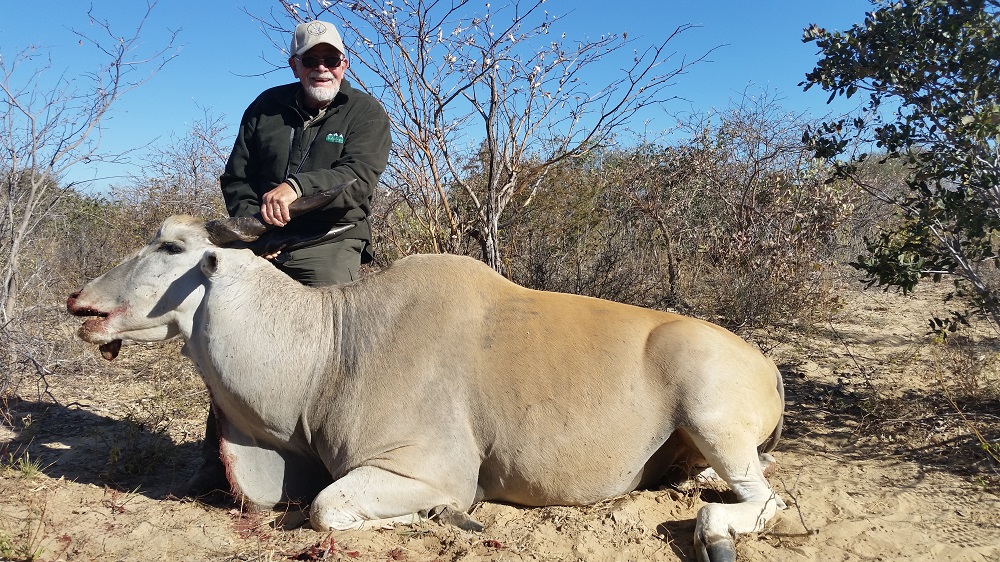 They had to cut a road into that area to load the eland...10 natives showed up...there is a winch in the back of the truck but it still took a lot of manpower to get it loaded...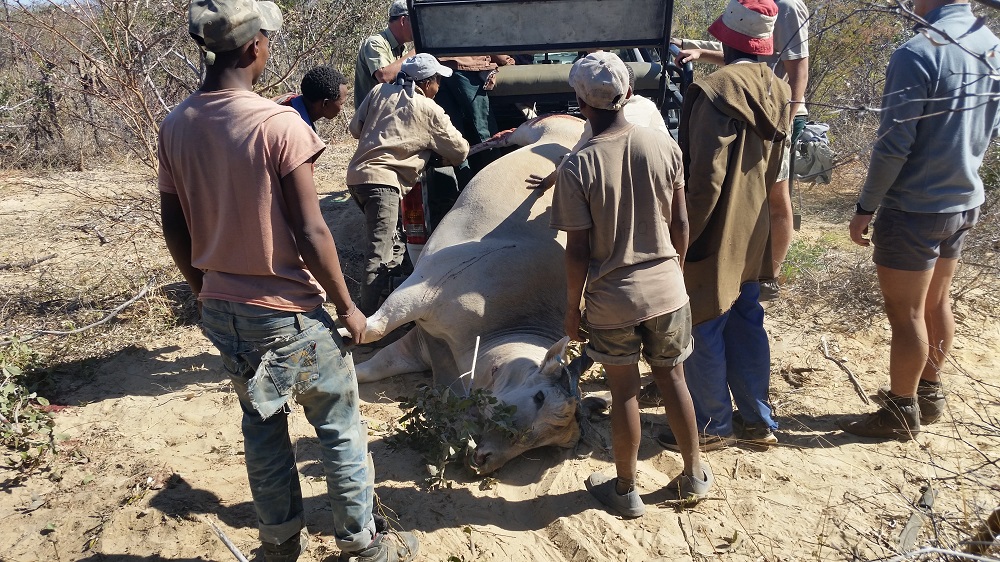 Bennie told me that bull was probably about 12yrs old. I told him the gravy was going to be tough...he said...nope..tender, you will see....and he was right. We had eland steaks that night. they were tender as the best ribeye...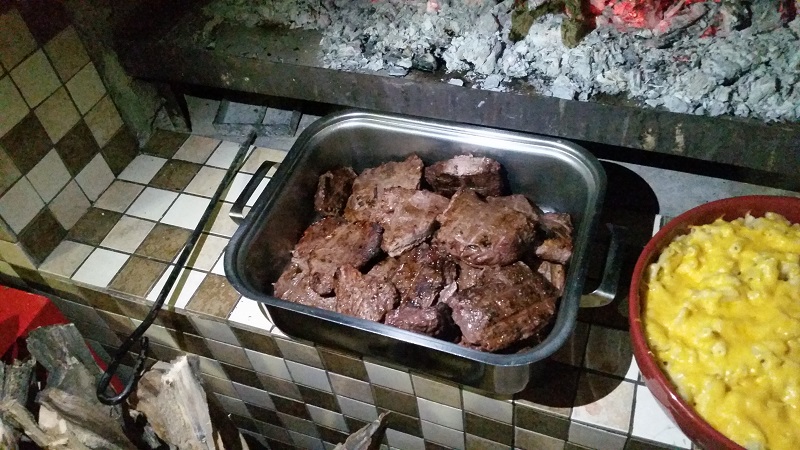 When the eland was down..we switched gears and hunted kudu.. it was a combination of stalking into bedding areas and waterholes, slipping thru big open fields glassing and sitting on waterholes. Incidental to the kudu hunting we planned to shoot whatever we came across that was on our list while we were looking for kudu.
that first morning kudu hunting we spotted a herd of impala...Raye was up. She and Bennie made the stalk, they had to move with the herd several times...eventually she got a shot at 245yd and dropped the ram in his tracks....
She made the shot shooting off a set of shooting sticks we bought especially for this trip. Bennie was impressed with her shooting and how those stix worked.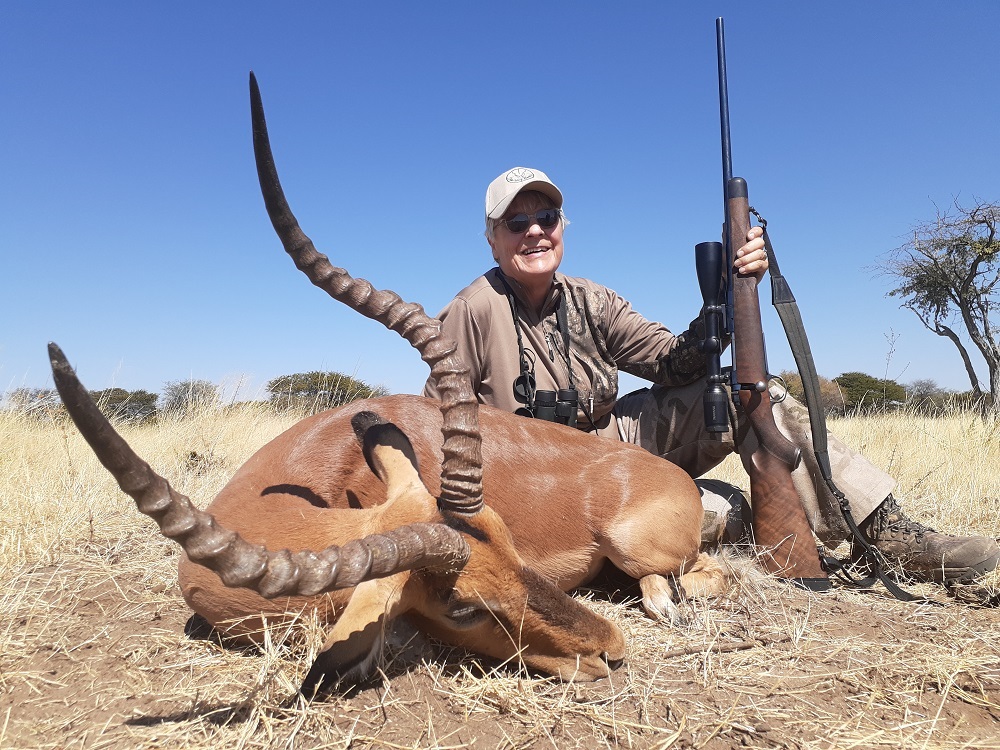 Another morning as we glassed a huge field, Bennie spotted a lone gemsbok cow. He and I hit the brush to close the distance. After about a 1/4 mile we eased up to the edge..Bennie located the gemsbok. We crawled to the edge...Bennie eventually set up the stix and motioned for me to get up on the stix. The gemsbok was about 150yds away looking toward us. I shot her on the point of the shoulder and she piled up right there... She was a very old cow and would not have lasted another year..she was off on her own.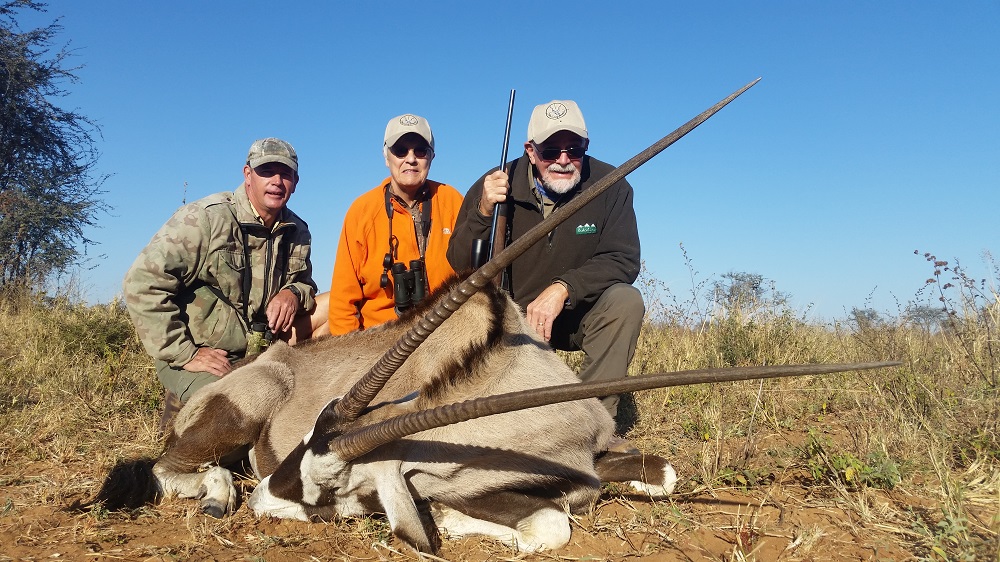 In the midst of all this excitement we did see some big kudu bulls...I just never got a shot opportunity. I passed on several bulls that were just under 50"...we just kept hunting...
At some point we took a day off and went fishing on the Okovango river for tigerfish....we hooked a bunch got two up to the boat but we only boated one fish...
Raye did however snag a Hippo. He was not happy and things were exciting for a little while.. The hook finallly broke and the guide got his lure back..the hippo climbed out of the water and glared at us as we continued to fish...it was interesting.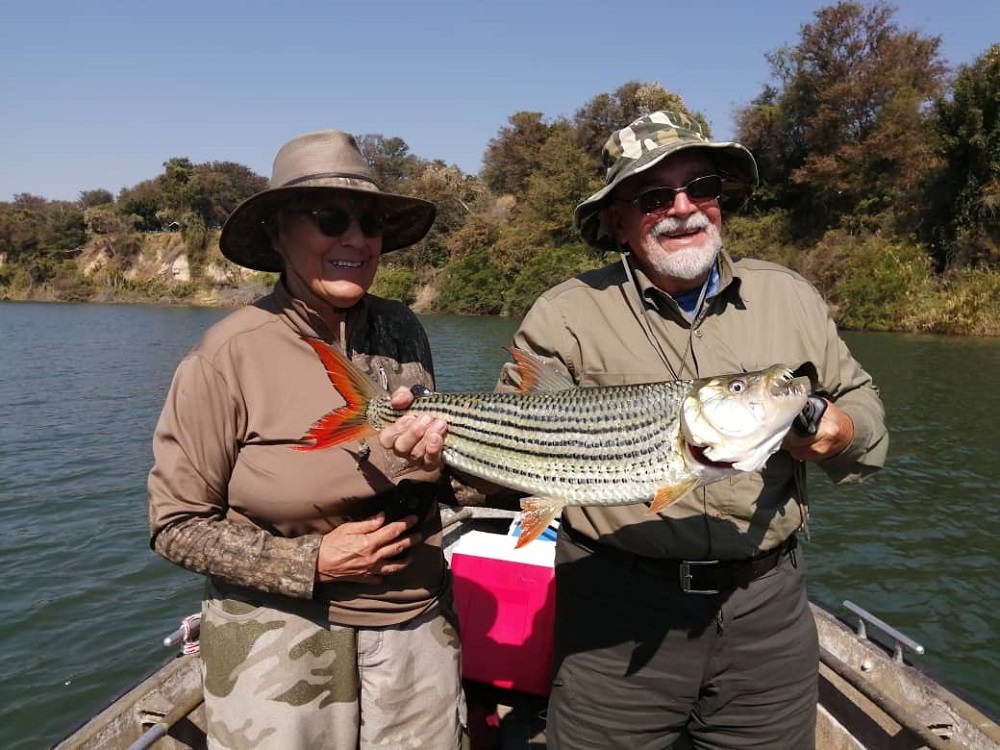 Another morning, back after kudu, we spotted a herd of springbok...Raye and Bennie stalked the herd and eventually she shot this ram at 250yds off the stix again.
When a springbok dies it dorsal hair stand up for about 3minutes...then it lays back down....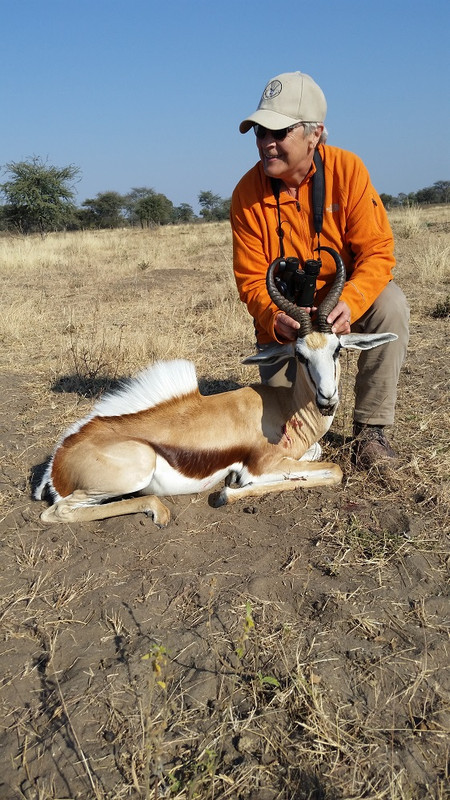 They are beautiful animals...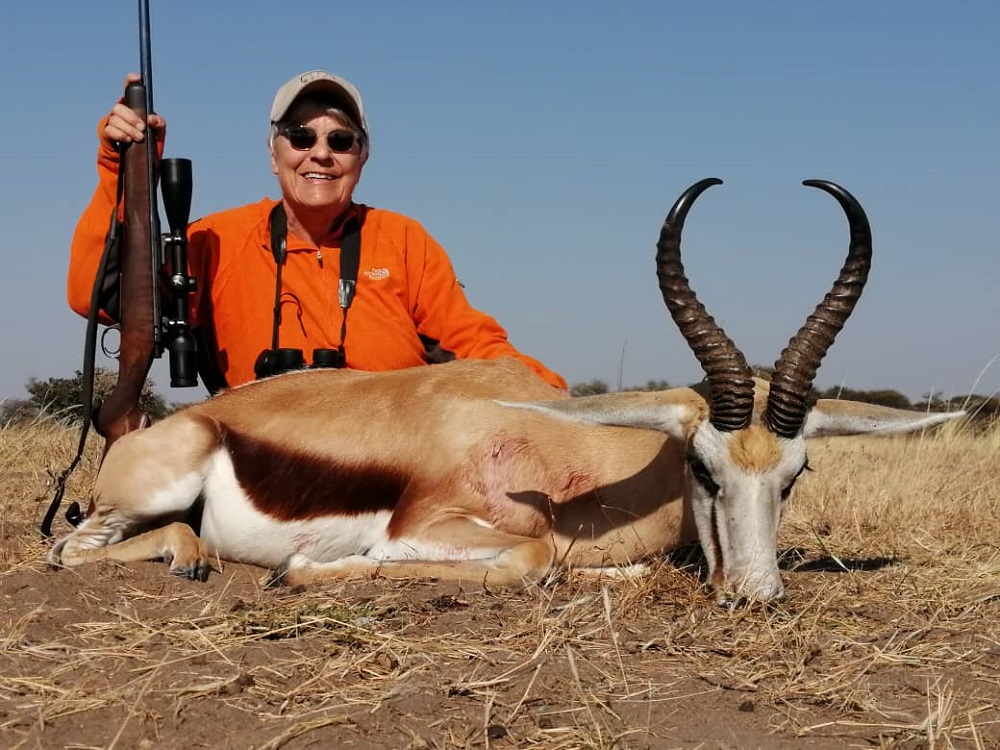 Near the very end of our hunt, Raye shot a steenbok ram...her shot was not perfect.. they are tiny antelope and he moved just as she shot. She ended up hitting him in the head and blew a horn off...we found the horn so the taxidermist is going to rebuild it for her...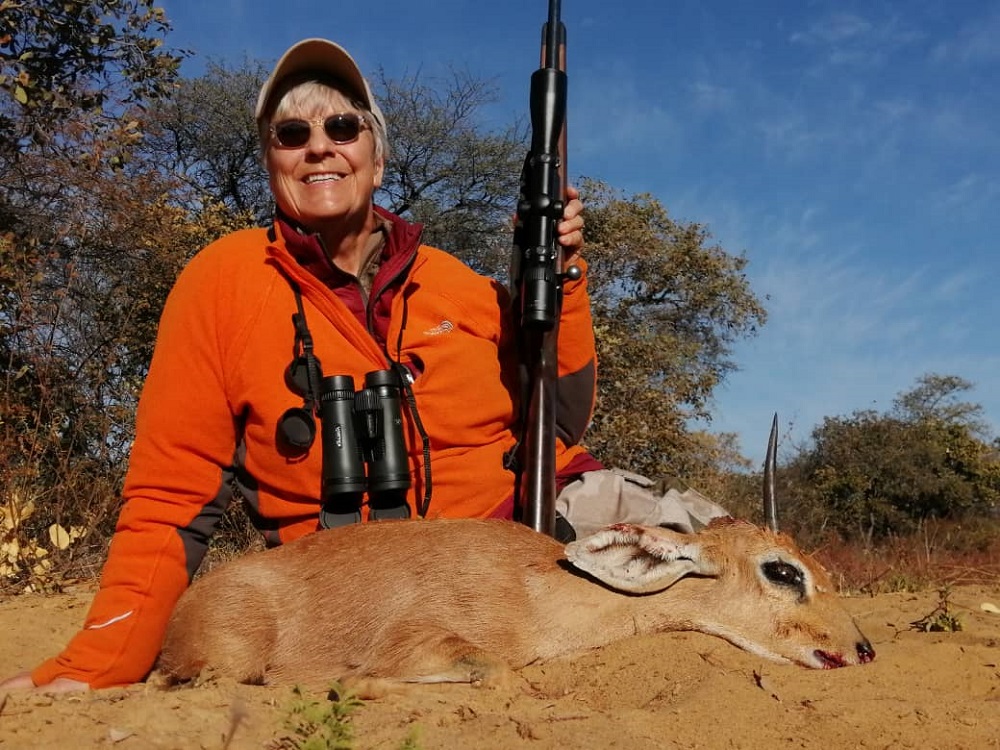 So in the end...Im still without that big kudu bull Im looking for, but the hunting this year was spectacular. Im not sure I have ever hunted so hard for so long. If you can be fully immersed in hunting...I think I was. We are already planning to return, but will probably wait until the covid hoops become a little easier.